Companies of all kinds are utilizing programs to reduce their maintenance costs and carbon footprint.
FilterPro has been helping industrial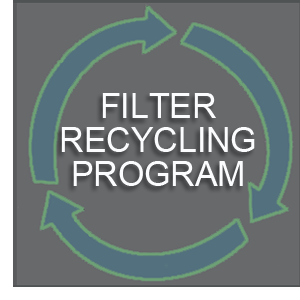 and manufacturing companies become more eco-friendly for over 30 years.
Take advantage of filter recycling through expert cleaning, reconditioning and re-use, while saving up to 40%-60%.  You can rely on FilterPro to clean and recondition your plant's filters as a smart, cost-effective way to do more with less.
10 REASONS TO CHOOSE FilterPro for CLEANING AND RECONDITIONING FILTERS:
FilterPro is the nationally recognized filter cleaning and reconditioning leader.
Spend 40 to 60 percent less than the cost of purchasing new filters.
Keep viable filters out of the landfill, decreasing pollution and waste.
Filter Pro uses an EPA-Certified "Green for The Environment" cleaning solution.
Reduce waste disposal expenditures and stress on natural resources.
Advance your plant's sustainability and environmental leadership.
Support your company's ISO 14000/14001 standards.
Being good stewards of our environment is the moral, ethical path.
There's no risk with FilterPro's no-cost, no-obligation test cleaning.
We have a 30+ year track record of success and satisfied customers.
THE FilterPro Green Clean™ PROCESS IS EFFECTIVE AND COST-EFFICIENT
Filter Pro's innovative filter cleaning and reconditioning methodology enables cost-effective filter recycling and re-use specifically for industrial dust collector filters, intake filters and compressor filters. Our proven filter cleaning and reconditioning process delivers unsurpassed results – returning a filter that meets the operating and performance specifications of a new filter.
Unlike other filter cleaning companies, our process thoroughly and safely cleans the entire filter, including the pores of the filter medium. And, rather than offer or use a single method or type of cleaning, we take an engineering approach that tailors the procedures and solutions used to the individual filter. The method and approach used will vary with the type of filter, particulates, filter medium, filter size and design, and other factors. Based on an initial evaluation, we may employ sonic cleaning, jet-air knife cleaning, wet cleaning system – or a combination of methods to achieve optimum results.
PUT OUR FILTER RECONDITIONING SERVICES TO THE TEST
FilterPro effectively cleans thousands of filters every month, encompassing virtually all types of media and treatments. Each filter goes through a thorough process and rigid quality control.
Contact us to see how you can save money recycling and reconditioning vs. buying new filters – all while being kinder to our environment.