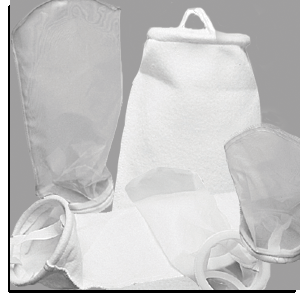 FilterPro custom-manufactures and supplies high-performance replacement liquid filter bags in 11 industry-standard sizes and a wide range of configurations. Our liquid filter bag line allows you to choose the right filter medium and size to fit your need. All of our liquid bag filters are manufactured and sold in case quantities. Many liquid filters are in stock and available to ship the next day directly from our factory here in the United States. Simply provide our sales technician with your current part number.
• Both wire ring tops and optional plastic tops are ready to ship in size 1, size 2 and size 3.
• Be sure to specify whether you prefer your filters shipped with or without a handle.
• Most filters come in case quantities of 50 pieces per box.
WE CUSTOM- MANUFACTURE LIQUID FILTER BAGS WITH YOUR CHOICE OF MATERIALS, INCLUDING:
• Polyester Felt
• Polyester Microfiber
• Polyester Mesh
• Polypropylene Felt
• Polypropylene Mesh
• Polypropylene Microfiber
• Nylon Mesh
• Nomex Nylon Felt
FilterPro MAKES CUSTOM-SIZED BAGS FOR YOUR SPECIFIC NEEDS:
• Size #1
• Size #2
• Size #3
• Size #4
• Size #7
• Size #8
• Size #12
RELY ON FilterPro FOR TOP-QUALITY REPLACEMENT LIQUID FILTERS TO FIT THESE BRANDS:
• Eaton
• FSI
• GAF
• Parker
• Pentair
• Ronning
• Rosedale
• Strainrite
Call FilterPro today and let us help you choose the right industrial liquid filters for you. Many of these bags may be cleaned so ask about it when you call in.