PULSE-JET FILTER BAGS
FilterPro manufactures pulse-jet and plenum pulse-jet filter bags. A pulse-jet collector uses a pulse of air to clean the filter bags while they are on line.  The cleaning system usually consists of compressed air, a solenoid valve, a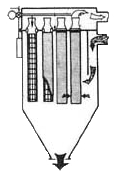 diaphragm valve, and blow pipes. Pulse-jet collectors have become very common and are an efficient way to remove accumulated dust on a filter bag.  Filter bags are one of two distinct styles, either top-load (snap band, or flange) filter, or a bottom load (raw edge) filter.
Typically, a top load bag will have a snap band, flange, raw edge, or ring (metal or buna rubber) on the top end of the filter. The bottom of the filter has either a disk sewn into the end, or can be sewn flat. Pulse-jet filters are most commonly made of 16 ounce needled-felt. Multiple materials (medias) and options, such as ground wire to meet the dust collector requirements, are available for a pulse-jet filter bag.
SHAKER BAGS
Shaker collectors clean the filter using mechanical energy or motion. A shaker will normally have the open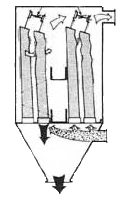 end of the filter on the collector floor and will be attached to a mechanism that literally shakes the filter bag clean.
Shaker bags may have a snap band, raw edge, hem, or cord style configuration on the open side of the filter bag.  The closed end of the filter will have a way to hang it from the shaker mechanism.  This may be a strap, loop, grommet, or A-hanger.  Filter bags are commonly made from woven polyester or polyester needled-felt (10 or 12 ounce). Anti-collapse rings may be used to hold the bags open for maximum cleaning, and air flow.
FilterPro's team will help with media that will provide you the performance you require.
REVERSE AIR FILTER BAGS
A reverse air dust collector uses a sweep that blows air into the filter's clean side, reversing the air flow and cleaning the filter bags. Common top designs are; compression band, strap top, loop top, cord top cuff and grommet top bags. Bottom types include; raw edge, cuffed, compression band or snap band cuff.   Anti-collapse rings may be used to hold the bags open for maximum cleaning, and air flow.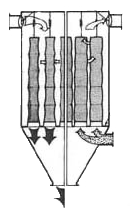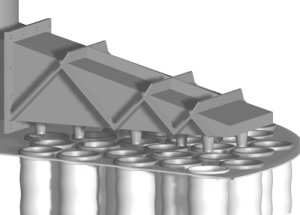 CUSTOM FILTER BAGS
We can manufacture filter or chutes for any need or application – from filters made to fit over 55 gallon drums to a filter that has various snouts and inlets. FilterPro has a solution for all your custom needs.
OEM CAPABILITY
Standard Filter manufactures filter bags for any application, including custom filter bags.
Some examples include:
Aaron
Aerodyne
Aeropulse
Aget
Airtrol
Air Conveying
Air Sentry
Allen Sherman Hoff
Amerex
American Air Filter
American Std
Argo Blower
Astec Industries
BACT Engineering
Balox
Bahnson Hawley-Norblo-Envirotech
Barber-Green
Baumco
Belco
Bituma Construction
BMG
Brandt Engineering
Buell/Norblo
Buffalo Forge
Buhler-Miag
Carter-Day
Cedar Rapids
Clark's Sheet Metal
Clemco Mfg.
CMI
C-E
DCE Volkes
Dustex
Dusty Dustless/Griffin Env.
Dynamic Air
Eastern Control Systems
Emtrol
Environmental Elements
Esstee Mfg. Co.
Evo
ExCel Air
Fabrics Filters N.W.
Farr
Filter Corp.
Flakt
Flex-Kleen
Fulter
GMD Engineered Systems
GenTec
General Resource
George Rolfes
Green Steel
Guzzler
Hoffman
ICA/Ecolair
ICM
Intensifilter
Interel/Luhr
Johnson March
Kice
Kleissler
Lear Siegler
Lamson
Mac Equipment
McCarter
Mikropul
Moldau
Murphy-Rodgers
Norblo
Pangbom/Carborundum
Parsons
Peabody Process System
Percy Todd Mfg.
Perlite
Pneumafil
Premier Pneumatics
Procedair Ind.
Rayjet/CEA
Rees
Research-Cottrel
Ruemelin Mfg.
Saunco
Scientific Dust Coll.
Semco/Keystone Intl.
Seneca
Spahr
Staclean
Standard Havens
Standard Metals
Stansteel
Steelcraft
Tarmac
Tech-Air
Torit/Donaldson
Ultra Industries
US Air
United Air Specialist
United Conveyor
WW Sly
Western Pneumatics
Westinghouse
Wheelabrator-Frye
Wiedenmann
Young Ind.
Zero
Zurn Air Industires
many more..