Constantly replacing your industrial filters can be expensive. FilterPro has developed a patented method for industrial filter cleaning and reconditioning designed to save you 40-60% off the cost of a replacement. We clean all types of filters – from cartridge filters of all shapes and sizes to dust collection bags. Even the dirtiest filter is no match for FilterPro's industrial filter cleaning.
FilterPro INDUSTRIAL FILTER CLEANING METHODS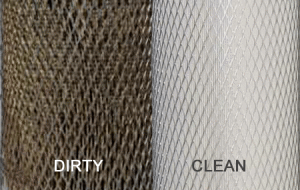 Cleaning a filter is not as simple as rinsing it out. In order to properly clean your filter and preserve its performance, special techniques must be used. These methods vary depending on the material of the filter and the application in which it will ultimately be used. At FilterPro, our industrial filter cleaning technicians are skilled in the art of filter cleaning and use a variety of methods to achieve optimum results. Some of our advanced industrial filter cleaning techniques include:
COMPRESSED AIR FILTER CLEANING METHODS:
Sonic Filter Cleaning: This is a common method of filter cleaning used on a broad spectrum of filters. It uses compressed air to clean the filter. This technique must be monitored carefully as it has the potential to damage the filter if done incorrectly.
Jet Air Knife: This cleaning method is similar to the sonic cleaning method. The jet air knife method uses thin, wide "blades" of compressed air to remove the particulates from the filter.
It can be effective in some circumstances, but is not appropriate for larger, more complex industrial filter cleaning applications.
Back Flush Method: Another compressed air cleaning method, the back flush method uses compressed air to force the particulates out of the filter in the same direction they entered. Like other compressed air methods, this filter cleaning technique will not remove heavy, sticky or animal-based dusts and contaminates.
LIQUID-BASED FILTER CLEANING METHODS:
Wet Filter Cleaning: This method utilizes soaps and solvents to clean the filter—including heavy, sticky, and animal fat-based particulates. This method is complex and requires an advanced knowledge of solvents and filter construction to avoid damage to the filter media.
THE FilterPro FILTER CLEANING DIFFERENCE
Many other industrial filter cleaning companies use only one method for cleaning your filters. This can lead to clogged filters, poor filter performance, and a reduced lifespan of the filter. At FilterPro, industrial filter cleaning is our specialty. Our trained technicians evaluate each filter individually using a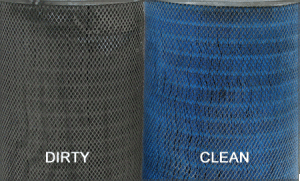 combination of cleaning techniques to achieve optimum results.
Trust the highly skilled industrial filter cleaning experts at FilterPro to save you up to 60% on your filtration needs.
Call us today and let us help you significantly reduce your filtration costs.