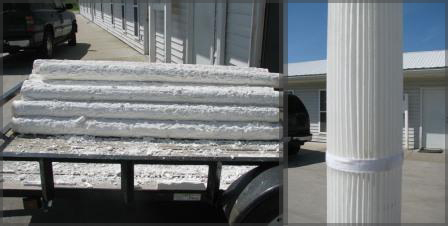 Cleaning a pleated dust bag filter vs. purchasing a new filter will lower your maintenance cost by 40-60%. FilterPro is by far the leader in the filter cleaning/reconditioning industry, and pleated elements are our largest area of business.
FilterPro cleans both top and bottom-load pleated bags.  We are able to clean virtually all the media choices and treatments — restoring them to original, factory-new specifications.  Every filter goes through our 1multi-step process and rigid quality control.
WHAT IS A PLEATED DUST BAG?
Pleated dust bags (or pleated elements) are used in bag houses to remove dust. They are designed to replace the filter bags in a baghouse. Unlike cartridge filters, a pleated dust bag is made only of Polyspun material.


They are generally smaller than a cartridge or canister filter, but can be up to 96" in length.
Pleated bags are normally manufactured the same diameter as the bag that they replace.
There are many advantages to a pleated element over a filter bag.
A PROPERLY-SIZED PLEATED DUST BAG:
Can increase the collector's air-to-cloth ratio.
Will last in a system 2-3 times longer than a cloth filter bag.
Less labor intensive to change.
The largest disadvantage of using a pleated bag is cost.  A pleated element can cost from $40.00 to $100.00 each, depending on the media and size.
HOW MANY TIMES CAN I CLEAN A PLEATED ELEMENT?
FilterPro has cleaned the same pleated bag 4-10 times for customerS.  Of course, results will vary depending on the use and dust collector. The two most common reasons a pleated filter is rejected are:
The inner core is smashed.The inner core being smashed is caused by dropping the filter from a height, or running the system for too long. If you do not monitor the mag gauge on the collector, the differential pressure will rise and crush the filters.

The filter was removed with pliers or vice-grips (top load).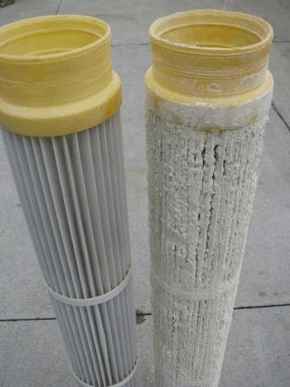 Pleated bag elements are cleaned in a very similar method to the cartridge filters. For more information about the methods to clean a filter and the characteristics of polyspun material visit "filter cleaning methods" page by using the link above.
*Please note: For your protection as well as ours, FilterPro requires an MSDS or SDS for all filters sent to us for cleaning. In addition, we cannot clean any materials classified as hazardous.*