SAVE 40-60% BY USING CARTRIDGE FILTER CLEANING & CANISTER FILTER CLEANING
Relying on FilterPro for expert industrial cartridge and canister filter cleaning is a cost-savings opportunity.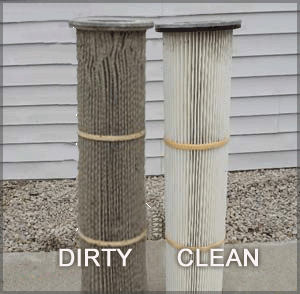 High-quality cartridge and canister filter cleaning makes great sense for your facility:
Reduce your maintenance expenditures.
Reduce your carbon footprint by keeping reusable filters out of the landfill.
Support plant sustainability and reduces waste disposal costs.
10 REASONS TO TRUST FilterPro FOR INDUSTRIAL CARTRIDGE & CANISTER FILTER CLEANING
FilterPro is known nationwide for delivering superior results and outstanding service in cleaning a wide array of industrial and manufacturing filters. We clean MORE THAN 30,000 filters each year.
Experience – we have been cleaning filters for satisfied customers for three decades.
The methods we use are safe, effective and time-tested.
We have the capacity to clean hundreds of filters per day, which means you get your filters quickly.
We successfully clean filters that contain everything from animal fats to carbon black.
We are leading specialists in cartridge and canister filter cleaning for industrial and manufacturing environments.
You can be confident that your cleaned filter will operate and perform as well as a new filter.
Our machines and equipment have been built to our designs and engineering specifications, providing maximum flexibility and optimum results.
Ongoing Research and Development; Our engineers continually design, evaluate and fine-tune new filter cleaning techniques and study dust particulate.
SUPERIOR RESULTS THROUGH EXPERIENCE AND ENGINEERING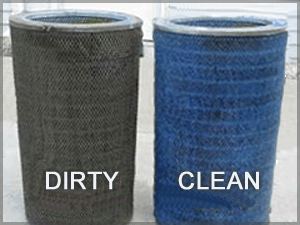 FilterPro has been cleaning filters effectively and cost-efficiently since 1983.
There are three common schools of thought on cartridge filter cleaning:
Using a jet air knife system
Using a sonic system
Using a wet cleaning system
The simple truth is that there is no single way to clean each type of filter, which is why we use an engineering approach. Most filters require multiple cleaning methods and steps to properly clean the dust collector filter. The key is determining and understanding the media; studying the particulate, and having a specialized method to clean the different types of filters and substrates. This approach – focused on continuous improvement – is what makes FilterPro the industrial cartridge filter cleaning experts.
FilterPro OFFERS A NO-RISK, NO-COST, NO OBLIGATION INITIAL TEST OF ONE FILTER FOR YOUR SYSTEM
 This allows us to evaluate your filter, determine the most appropriate cleaning methods and demonstrate our capabilities. We'll return the cleaned filter to you at no expense to prove our capabilities. The only cost to you is you sending us your dirty filter. Call FilterPro today!
CARTRIDGE FILTER CLEANING RESOURCE LINKS:
Donaldson® Torit® PowerCore® Filters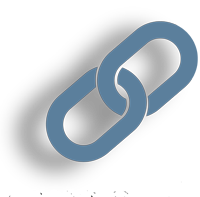 Learn what types of cartridge filters can be cleaned.
Learn more about the FilterPro-Tect™ filter cleaning program for food and pharmaceutical manufacturers
*Note: FilterPro requires an MSDS of all particulate and dusts in a filter for our protection and yours. We will not accept, clean or handle any filter containing hazardous materials.